Lighting mobile (LMS) EL-BOX 3200
LMS of EL-BOX 3200 is an universal outdoor lighting system. The system is designed for the autonomous lighting of areas and objects, which are situated beyond the reach of stationary sources of power, as well as for operational use in emergency situations. Modern LED-system is certified and meets the requirements for energy efficiency.
The distinctive features of the system include a uniform light distribution, and also the ability to focus on a particular object (up to 360 degrees). The lighting can be adjusted (10-3200 lm). It is easily customized to a running mode of emergency flashing lights (SOS mode).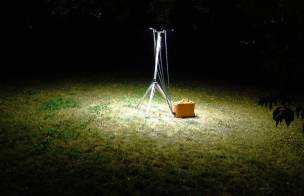 Who and where the system can be used:
By Police forces;
By officers of Ministry of Emergency Situations (MES) and Ministry of Defense (MD);
Under deployment of field hospitals;
By members of an emergency crew;
During construction, installation works;
During nature and camping trips;
During archaeological and geological excavations.
Autonomous LED lighting systems are useful for illumination in case of emergency situations, on-site of a road traffic incident. The system has been successfully used by engineers, mechanics during the organization of repair and installation works. Mobile lighting systems are required in enclosed compartments where you need illumination, but there is no generator of electricity.
Autonomous LED-systems: where are they used?
- Install as lighting systems in difficult locations, outdoor areas away from the main power supply, at uncomfortable areas for the free transport pass, like as lanes, remote wastelands, at construction sites. LMS is operated successfully for lighting of repair road sections, under rehabilitation of facilities and by MOE officers during accident rescue operations.
- Used as an independent power supply for devices with a direct current of 12 V and with a capacity up to 30 watts. Communication devices, GPS navigation devices, chargers and other low-power devices can be connected and charged by LMS.
Advantages of the Lighting mobile system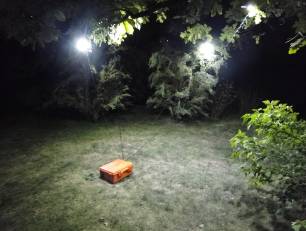 The system is based on high-brightness OSRAM Oslon LEDs;
The system operates under extreme temperatures conditions (from -35 to +50 ° C);
Long operational life – up to 100 thousand hours;
Operating time in autonomous mode is 600 hours;
Equipped by lithium battery on 12 V with short-circuit protection;
Accented lighting (up to 360 degrees), due to a telescopic tripod;
The Height of lamps is 80-250 cm, luminaire body can be tilted on 180 degrees;
Ergonomics of the system allows to assemble it for few seconds;
Optionally, it has solar-powered charge.
Lighting mobile systems operate at remote areas where the conventional lighting is impossible. They are easily fixed to natural objects (on twigs of trees or bushes) and artificial objects (armature, fence and catheads).
If impossible to charge from the conventional power source (220), you have a possible to charge the LED lamps by solar batteries, preserving mobility and high endurance of the device. The system can be connected for recharging to portable generators (automotive, gasoline, diesel and others).
What is included in a building kit?
Four LED lamps (10-800 lm) with an opening angle of 120;
Charger (220 V) and the connectors for external devices;
Hard case containing a storage battery, operating and control system, control buttons, indicating lights and external connectors. The hard case is ventilated and shock-resistant has a shell protection at the level of IP 65, and an unlimited service life. It`s available in two versions - orange or green.
Additionally:
LED Spotlight (3200 lm) with an opening angle of 10;
Telescopic tripod and mount kit;
Storage battery on 10A / h, and (or) 20 W solar battery.
Specifications:
Based on German OSRAM Oslon LED;
Adjustable level of illumination (10-3200 lm);
Dimensions of the lamp - 160x60x40 (mm);
Dimensions of the spotlight - 305x90x55 (mm);
Off-line operation mode - 3,5-600 hours;
Charge time - 7 hours with lithium battery on 12 V 10 A / h;
Charging from electricity grid on 100-230 V, constant current sources on 12-24V;
Dimensions of the hard case - 425x325x168 (mm);
A wide temperature range (from -35 to +50);
Weight of the lighting system does not exceed 8 kg.
Autonomous mobile LED-SYSTEM, series of EL-BOX 3200, ensures the service life for 10 years or more. Manufacturer's warranty covers a period of 18 months from the date of purchase.
Order form